Orlando Plastic Surgeon Sheds Light on Anesthesia Facts and Myths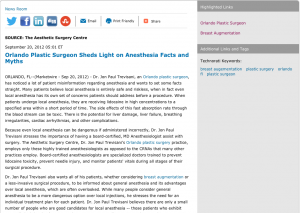 Orlando, FL – Dr. Jon Paul Trevisani, an Orlando plastic surgeon, has noticed a lot of patient misinformation regarding anesthesia and wants to set some facts straight. Many patients believe local anesthesia is entirely safe and riskless, when in fact even local anesthesia has its own set of concerns patients should address before a procedure. When patients undergo local anesthesia, they are receiving lidocaine in high concentrations to a specified area within a short period of time. The side effects of this fast absorption rate through the blood stream can be toxic. There is the potential for liver damage, liver failure, breathing irregularities, cardiac arrhythmias, and other complications.
Because even local anesthesia can be dangerous if administered incorrectly, Dr. Jon Paul Trevisani stresses the importance of having a board-certified, MD Anesthesiologist assist with surgery. The Aesthetic Surgery Centre, Dr. Jon Paul Trevisani's Orlando plastic surgery practice, employs only these highly trained anesthesiologists as opposed to the CRNAs that many other practices employ. Board-certified anesthesiologists are specialized doctors trained to prevent lidocaine toxicity, prevent needle injury, and monitor patients' vitals during all stages of their surgical procedure.
Dr. Jon Paul Trevisani also wants all of his patients, whether considering breast augmentation or a less-invasive surgical procedure, to be informed about general anesthesia and its advantages over local anesthesia, which are often overlooked. While many people consider general anesthesia to be a more dangerous option over local injections, he stresses the need for an individual treatment plan for each patient. Dr. Jon Paul Trevisani believes there are only a small number of people who are good candidates for local anesthesia – those patients who exhibit unusually high levels of anxiety and nervousness, as well as patients who are taking prescription medications that would negatively interact with general anesthesia.
The advantages of general anesthesia are shorter surgery times for patients (and therefore less chances of post-operative complications), no need to stop and inject local anesthesia, and less patient movement during the surgical procedure. There have been significant advancements in general anesthesia such as new anesthetic agents (with careful drug selection) and new techniques (such as LMA – Laryngeal Mask Airway) that allow patients to wake up faster, experience fewer complications, and resume normal activities relatively quickly. But Dr. Jon Paul Trevisani reminds patients that these advantages are dependent on the qualifications of the anesthesiologist, which is why at the Aesthetic Surgery Centre he only employs anesthesiologists who are board-certified.
About Jon Paul Trevisani, MD
Dr. Jon Paul Trevisani is a board-certified plastic surgeon and the founder and medical director of the Aesthetic Surgery Centre in Maitland, Florida. After graduating from the University of Nebraska Medical School in Omaha, Dr. Jon Paul Trevisani continued his surgical training at the University of Kansas Medical Center in Kansas City where he completed five years of general surgery training. In 2010, he received the Patients' Choice Award and has been selected as one of Florida's favorite Physicians. Dr. Jon Paul Trevisani founded his Florida practice, the Aesthetic Surgery Centre, in 1997, where he was later recognized as a Doctor of Distinction by Orlando Magazine in 2003. The private practice has an in-office surgical suite and is certified by the American Association for Accreditation of Ambulatory Surgery Facilities.
To contact the Aesthetic Surgery Centre, visit the center's website at jptrev.com, www.usabreast.com, facebook.com/DrJonTrevisani or call 407-901-4934. The center's office is located at 413 Lake Howell Road, Maitland, Florida 32751.