Team 'Work' and Team 'Leader' – Go Hand in Hand!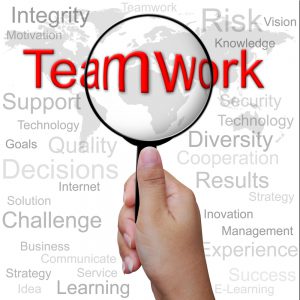 "Thank You to the Aesthetic Surgery Team also known as the A-Team" – Roshani, RN

It was May 5, 2005 that I entered the doors of The Aesthetic Surgery Centre as Dr. Jon Paul Trevisani's Registered Nurse. I have decided to retire my position at The Aesthetic Surgery Centre effective May 11, 2012. I regret leaving everyone here; however, I feel the change will be beneficial to my long-term career goals and objectives.
I am thankful to have worked with a great team for seven years. As I sit here deliberating and dissecting on what makes a good practice standout, I have come to my own personal conclusion. It is "teamwork" that is the critical component, in my opinion, for the overall success of any practice. The diversity of the skills and personalities that each team member brings adds to the strength and versatility of this practice all the while inheriting a capacity of positive energy. Additionally, keeping our efforts directed to collectively meeting our team goal, which is patient safety and satisfaction, continues to build strength to the practice. This of course relies heavily on communication amongst staff and harmony in our relationships with each other.
I thank all of the staff members at The Aesthetic Surgery Centre to have given me this wonderful opportunity to be part of the "A"-Team. Marianne (Practice Manager), Dr. Miller (Anesthesiologist), Barbara (Patient Coordinator), Denia (Patient Coordinator) and Julie (Medical Assistant) – all unique individuals with unparalleled personalities have become my United Nations family over the course of years. I will always be thankful for all that you have done for me each in your personal way. All of you have given me words of wisdom and I will continue to embark on the strength you have given me along the way.
Teamwork rarely happens by itself. Every team needs a good leader. A good team leader provides guidance, instruction and direction. He listens constructively. It goes without saying that our team leader is Dr. Jon Paul Trevisani. Exhibiting excellent leadership skills and always placing the patient first are admirable qualities. For without this key element, my personal desires and aspirations to continue the advancements that my nursing career has to offer me would not exist. Realizing that entering this arena requires 100% certainty and dedication, I'm hoping that my cumulative experience with patients and surgeries will help serve an invaluable tool that will help me become a more prepared Nurse as I enter the academic challenges that await me. Without this dedication, I would be doing a disservice to future patients and to myself.
I cannot fail to ignore to thank all of our wonderful patients who have embodied their trust in me for their nursing care. I am thankful for all the patients and families that I have gotten to know over the course of seven years. It's worth working hard together as a team just to hear those words "thank you" from patients and their respected families. It's worth working hard together as a team just to see patients' spirits lifted and feeling great about themselves. I particularly enjoyed the continuity of care and building therapeutic Nurse-Patient relationships over my time at The Aesthetic Surgery Centre. I will embrace all my memories and experiences for the years to come!
Respectfully Submitted, Roshani J. Patel, BSN-RN