Dr. Jon's Dinner Choice….
On Friday we posted a question that had a spotlight on Dr. Jon Paul Trevisani.
We asked:
If Dr. Jon had to choose his dinner option for tonight, which would it be?
A) A Sizzling Steak & Sushi Roll
B) Good Ol' Spaghetti with Meatballs & Homemade Stuffed Mushrooms
C) Spicy Thai Noodles with Red Curry & Slice of NY-Style Pizza
D) Lobster Bisque & Chicken and Vegetable Hummus Wrap prepared by Office Staff
And the Correct Answer is…
A) A Sizzling Steak & Sushi Roll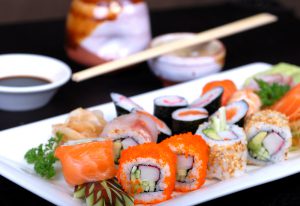 In fact, Dr. Jon and his family will frequent his favorite local sushi restaurant and has a roll named after him called "Dr. Jon's Roll"
Thanks for those who have participated!
Dr. Jon Paul Trevisani earned his medical degree with Alpha Omega Alpha (AOA) distinction at the University of Nebraska Medical School in Omaha, Nebraska. He then completed five years of general surgery residency training at the University of Kansas Medical Center and a 2 year residency in plastic surgery at the University of Rochester, Strong Memorial Hospital in Rochester, New York. Dr. Jon Paul Trevisani is certified by the American Board of Plastic Surgery, a Fellow of the American College of Surgeons, and a member of the American Society for Aesthetic Plastic Surgery, the American Society of Plastic Surgeons, Florida Society of Plastic Surgery and the Florida Medical Association. He has also received numerous awards for his work in plastic surgery including the Patients' Choice Award, America's Top Physicians in Plastic Surgery, Doctor's of Distinction selection for Orlando Magazine, and voted the best in his field in the Orlando Sentinel two years in a row.
For more information on Dr. Jon Paul Trevisani, please call our office today at (407) 901- 4934 to schedule your complimentary consultation or complete our contact form online. The Aesthetic Surgery Centre is located at 413 Lake Howell Road Maitland, FL 32751, and can be found online at jptrev.com or our Facebook Page. You may also visit our exclusive website dedicated to only breast surgery at usabreast.com.