Orlando Plastic Surgeon on Tummy Tuck Candidacy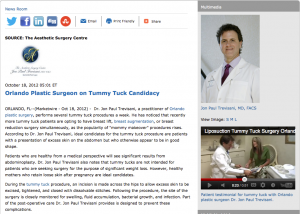 Orlando, FL – Dr. Jon Paul Trevisani, a practitioner of Orlando plastic surgery, performs several tummy tuck procedures a week. He has noticed that recently more tummy tuck patients are opting to have breast lift, breast augmentation, or breast reduction surgery simultaneously, as the popularity of "mommy makeover" procedures rises. According to Dr. Jon Paul Trevisani, ideal candidates for the tummy tuck procedure are patients with a presentation of excess skin on the abdomen but who otherwise appear to be in good shape.
Patients who are healthy from a medical perspective will see significant results from abdominoplasty. Dr. Jon Paul Trevisani also notes that tummy tucks are not intended for patients who are seeking surgery for the purpose of significant weight loss. However, healthy mothers who retain loose skin after pregnancy are ideal candidates.
During the tummy tuck procedure, an incision is made across the hips to allow excess skin to be excised, tightened, and closed with dissolvable stitches. Following the procedure, the site of the surgery is closely monitored for swelling, fluid accumulation, bacterial growth, and infection. Part of the post-operative care Dr. Jon Paul Trevisani provides is designed to prevent these complications.
Patients will experience muscle tightening in conjunction with the diastasis that accompanies tummy tuck surgery. Diastasis is the abdominal muscle separation that often occurs with pregnancy. During the tummy tuck procedure, the diastasis is repaired and the muscles are tightened using special suturing techniques. To assist the muscles during the healing process, Dr. Jon Paul Trevisani uses a suture called the QuillTM for tummy tuck procedures. QuillTM sutures are bidirectional, self-anchoring, knotless sutures that he uses because they will not "give up" over time. While QuillTM sutures are still relatively under-utilized due to cost factors, he believes they are essential to achieving the best possible surgical outcome.
Dr. Jon Paul Trevisani's patients consult with a Patient Coordinator/Educator to discuss pre-operative measures. He provides his patients with homeopathic agents to aid patients in their recovery, minimizing their post-operative bruising and swelling. At The Aesthetic Surgery Centre, Dr. Jon Paul Trevisani's practice, he says he limits the number of surgeries to one per day in order to give his patients privacy and personal attention during their overnight stay. The recovery time for patients returning to work varies depending on their individual case and their job. However, Dr. Jon Paul Trevisani, a board-certified Orlando plastic surgeon, says patients can expect to take a minimum of two weeks rest.
About Jon Paul Trevisani, MD
Dr. Jon Paul Trevisani is a board-certified plastic surgeon and the founder and Medical Director of The Aesthetic Surgery Centre in Maitland, Florida. He is a member of Alpha Omega Alpha, the medical honor society that comprises the top 10 percent of medical students, as well as a Phi Beta Kappa graduate of the University of Nebraska, Lincoln. Dr. Jon Paul Trevisani earned his medical degree from the University of Nebraska Medical School in Omaha, before continuing his surgical training at the University of Kansas Medical Center in Kansas City. In 2010, Dr. Jon Paul Trevisani was selected as one of Florida's favorite Physicians and received the Patients' Choice Award.
To contact The Aesthetic Surgery Centre, visit their websites at jptrev.com, usabreast.com, or call 407-901-4934. The office is located at 413 Lake Howell Road, Maitland, FL 32751. The center's Facebook page can be found at facebook.com/DrJonTrevisani.