Why Do I Have To Remove Nail Polish Before Surgery?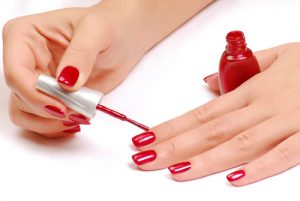 Ladies, if you are thinking about getting a manicure right before your surgery you may want to reconsider. Most hospitals and offices will advise
patients to remove nail polish before surgery, but have you ever wondered why?
Possibly the most important monitoring device that helps make modern anesthesia so safe is the pulse oximeter. This non-invasive method
allows the monitoring of the oxygenation of a patient's hemoglobin.
A sensor is placed on the fingertip and this measures the level of oxygen in the blood and works by passing red light through tissue. Nail polish may reduce the effectiveness of this monitor. The nail bed is one of the best places to detect cyanosis caused by low oxygen levels. This is why acrylic nails, nail polish, solar nails, shellac polish, etc are asked to be removed prior to surgery.
Dr. Jon Paul Trevisani earned his medical degree with Alpha Omega Alpha (AOA) distinction at the University of Nebraska Medical School in Omaha, Nebraska. He then completed five years of general surgery residency training at the University of Kansas Medical Center and a 2 year residency in plastic surgery at the University of Rochester, Strong Memorial Hospital in Rochester, New York. Dr. Jon Paul Trevisani is certified by the American Board of Plastic Surgery, a Fellow of the American College of Surgeons, and a member of the American Society for Aesthetic Plastic Surgery, the American Society of Plastic Surgeons, Florida Society of Plastic Surgery and the Florida Medical Association. He has also received numerous awards for his work in plastic surgery including the Patients' Choice Award, America's Top Physicians in Plastic Surgery, Doctor's of Distinction selection for Orlando Magazine, and voted the best in his field in the Orlando Sentinel two years in a row.
For more information on Dr. Jon Paul Trevisani, please call our office today at (407) 901- 4934 to schedule your complimentary consultation or complete our contact form online. The Aesthetic Surgery Centre is located at 413 Lake Howell Road Maitland, FL 32751, and can be found online at jptrev.com or our Facebook Page. You may also visit our exclusive website dedicated to only breast surgery at usabreast.com.