What Does a Plastic Surgeon's Re-certification Mean for Patients?
Although some physicians are not required to do so, our board-certified plastic surgeon, Dr. Jon Paul Trevisani, explains why it is important for plastic surgeons to renew their board certifications every ten years.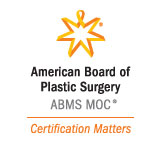 If you have been considering plastic surgery, you have probably realized board certification is an important credential to look for when researching doctors. Although this certification is extremely important to consider, knowing when the plastic surgeon was certified is another important fact of which to be aware.
The American Board of Medical Specialties (ABMS) has consistently recognized the American Board of Plastic Surgery as the only medical sub-specialty board responsible for the certification and training of plastic and reconstructive surgeons. Board certification must be renewed every ten years to maintain the highest standards of patient care. For surgeons who were certified after 1995, the renewal process involves a review of the physician's professional standing and clinical work, testing of their medical knowledge, and the completion of 500 hours of continuing medical education.
However, if the plastic surgeon was certified before 1995, they are not required to renew their certification; they are recognized as having "lifetime" certification. If the doctor you are considering has a "lifetime" certification, I recommend asking them if they still voluntarily choose to go through the re-certification process. If they do not, I suggest asking further questions to find out what he or she surgeon does in order to stay on top of the latest techniques, medical knowledge, and technology.
Selecting the plastic surgeon who is right for you is not something that should be taken lightly. Conducting thorough research and becoming well-informed about your surgeon's credentials and experience level are of the utmost importance. If you meet with a surgeon who says they have 20+ years of experience, I hope you will remember to follow up with the appropriate questions about their certification.
If you are interested in scheduling a consultation with Dr. Jon Paul Trevisani, or want to learn more about his certification and background, please contact our office today.