Choosing the Right Breast Implant Size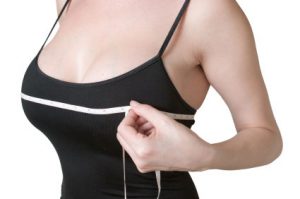 When breast augmentation patients are deciding what breast implant size to choose, there are many important factors to consider. Many patients make the common mistake of thinking that a certain volume translates the same way for all people. For example, if a patient's friend got 350cc, and they think their friend's breasts look too large, that same volume might not necessarily look too large on them. On that same note, if they like the way a friend's implants turned out, saying they want the same breast implants as their friend might not be the right choice, either. It is important to remember that everyone's body is different, so the same size implant will look different on various body shapes and sizes. When selecting the appropriate size, factors such as anatomy, physique, breast tissue, and breast disposition are considered.
When it comes to breast augmentation, there are two types of patients: women who are looking for a natural-looking enhancement, and women who want a drastic, more obvious change.
Women who are seeking a more conservative look are often concerned with how society will perceive them for having a breast enhancement procedure, but they are still looking for a way to improve the appearance of their breasts. It is important for these women to keep in mind that, when inserting a smaller implant, if their breasts have lost some elasticity, it is usually beneficial to add a breast lift to the procedure. Without the added lift, the implant might not give them the result they were looking for.
For women who are looking for a much larger implant, it is important to avoid a size so large that it presents the risk of symmastia. This can sometimes occur when the implants end up too close together because of their size, creating what is commonly referred to as a "uniboob" appearance. Symmastia can occur regardless of whether the implants are placed over or under the muscle, and requires surgery to repair.
Learn More About Choosing The Right Breast Implant
In part two of Dr. Jon's blog series, he discusses tips for selecting the right breast implant shape. To learn more about implant options, or to schedule a consultation with Dr. Jon Paul Trevisani, please contact us today.