Breast Lift With Implants: The Latest Plastic Surgery Trend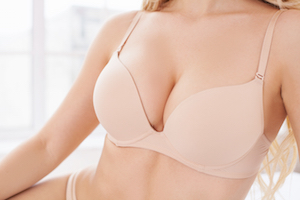 Last Friday the trivia question on our Facebook Contest pertained to women interested in having a breast lift and breast implant surgery.   The question, "Can a Breast Lift and Breast Implant surgery be done at the same time?"  The answer is yes for some women but for many women the answer may surprise you!  Read further to find out more information on this topic.  
There are numerous reasons why a woman may consider breast lift surgery, also called mastopexy, including the development of ptosis (drooping or sagging) as a result of genetic predisposition, pregnancy, or weight fluctuations. I have found that patients seeking this particular cosmetic enhancement also often desire fuller, more shapely breasts and request breast implants to help achieve this goal. Implants can certainly help to increase breast volume and improve proportion; however, the latest trend of combining mastopexy with implants in the same operation may not always provide optimal results.
One breast enhancement method I often recommend that can provide the lift and improved form many desire is staging the cosmetic procedure in two parts: first the breast lift and then – approximately six months later – the implant insertion. By separating the surgeries, I can typically offer exceptional results patients love that last far longer than if the two operations had been performed at once. Safety and efficacy are my primary concerns, and I am committed to providing honest feedback about which approach will be best for an individual based on her unique anatomical needs and expressed goals.
New plastic surgery trends may reveal advanced techniques that offer enhanced results. In the case of breast lift surgery with implants, by separating the compound procedure into two distinctive operations, patients typically achieve higher-quality, longer-lasting results and experience greater satisfaction, plus the process often can be a much safer one.
If you have additional questions about breast lift surgery with implants, please contact our office today.
Thank you all for participating in the Facebook Contest! All of you answered correctly.  As long as you have registered for the contest, you have a chance of winning the big giveaway!  You are increasing your chances of winning by going to our Facebook Page and answering trivia questions posted very Friday. Any answer earns one point, correct answers earn two points! Remember you will receive credit for your answer if you have submitted an entry form on our Contest Page. Additionally, an entry form needs to be submitted if you wish to be included in the drawing for our giveaway.  We are giving away weekly Aesthetic Surgery Centre gear and the winners for this week are:

Amie Abbott
Carrie Hudson
Kristeen Foster
Congratulations and you will be notified via the email you listed in the contest entry form to claim your prize. Be sure to stay near your inbox! If you have questions pertaining to this contest please email me at [email protected]